THE PASSION OF SPIRIT LOVE VERSES HUMAN PASSION AND COMPASSION
By Ron McGatlin
DO NOT BE DECEIVED!
The deception of darkness has grossly invaded the minds and hearts of natural humanity in this world. Bitter hatred and extreme violence against all that is of God and Christ Jesus are becoming blatantly evident in high places of human governance.
Our natural minds are failing us. The natural mind finds no solution or way of repairing the mind-boggling dilemma of a world trapped in self-destructive beliefs and practices. This leaves us in hopeless vanity.
Secular humanism and manmade religions are as a voice of death trying to drown out the Spirit reality of the voice of the true life of God in Christ in His people on earth.
An anti-Christ trained generation of accursed children have grown into adults seeking to bring devastation and destruction to the people and nations of the free world. (2 Peter 2:12-27).
There is no earthly or humanistic solution available to turn the tide of anti-Christ forces seeking the destruction of all that is of God on earth. The power to stop the destructive forces of evil must come from Spirit God in heaven.
THE APOCALYPTIC CATACLYSMIC POWER RELEASE FROM HEAVEN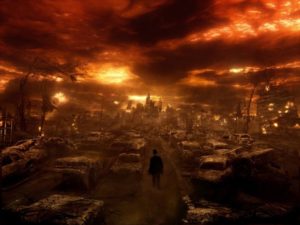 The pure holy love and power of Almighty God that flows life to the people of God flows dissolution to all that lifts itself against God. (Isaiah 2).
The unprecedented season of the bright light of the love of God and the deep darkness of destruction is now upon us. "Arise, shine; for your light has come! And the glory of the LORD is risen upon you. 2 For behold, the darkness shall cover the earth,
And deep darkness the people; But the LORD will arise over you,
And His glory will be seen upon you. 3 The Gentiles shall come to your light, and kings to the brightness of your rising." Isaiah 60:1-3.
A fresh flood of Spirit Love is flowing from Spirit God into the hearts and lives of the chosen Sons of God.
Though many are called, only the faithful, pure-hearted children of God are chosen and are being filled with the powerful cleansing flow of the liquid fire of the all-consuming love of God.
The awesome power of love is only beginning to be recognized in the resurrected crucified Sons who have lost their previous lives and are now made alive by the indwelling Spirit of Christ within. (Galatians 2:20).
All of the attributes of God destined for man are flowing in the river of love into the Sons of God.
Effortlessly on our part, the very wisdom and power of Almighty God pour into us producing righteousness, peace, and joy. The kingdom rule of God flows into our hearts and out into the world.
LOVE CLEANSES AND ORDERS ALL LIFE
Laws and rules mean nothing to the deceived lawless anti-Christ generation of sons and daughters of the devil bent on evil destruction.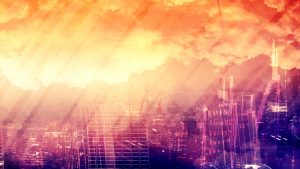 Only the full release of the POWER of the LOVE of God in His full grown Sons filled with Christ by Spirit God will withstand the onslaught of violence against the reality of the kingdom of God rule on earth. "For then there will be great tribulation, such as has not been since the beginning of the world until this time, no, nor ever shall be. 22 And unless those days were shortened, no flesh would be saved; but for the elect's sake those days will be shortened." Matthew 24:21-22.
By LOVE, the POWER and WISDOM of GOD ALMIGHTY flows into the Sons of God in whom Christ Jesus fully dwells, thus empowering the Sons of God to bring an end to all of the works of the defeated enemy. The POWER of LOVE dissolves the enemy and his works.
MYSTERIES OF GOD REVEALED
Mysteries beyond human understanding are being released to enable and empower the mature people of God to manifest the fullness of the works of heaven – to speak and do what no natural-minded or spiritually immature person can do.
"However, we speak wisdom among those who are mature, yet not the wisdom of this age, nor of the rulers of this age, who are coming to nothing. 7 But we speak the wisdom of God in a mystery, the hidden wisdom which God ordained before the ages for our glory, 9 But as it is written: 'Eye has not seen, nor ear heard, nor have entered into the heart of man, the things which God has prepared for those who love Him.' 10 But God has revealed them to us through His Spirit. For the Spirit searches all things, yes, the deep things of God." 1 Corinthians 2:6-7, 9-10.
The whole earth shall be made new in the victory of the precious Lamb of God, Savior and King Christ Jesus in all of His glory as He delivers the kingdoms of earth back to Father God. Then comes the end, when He delivers the kingdom to God the Father, when He puts an end to all rule and all authority and power. 1 Corinthians 15:24.
The kingdoms of this earth have become the kingdoms of our God. "Then the seventh angel sounded: And there were loud voices in heaven, saying, 'The kingdoms of this world have become the kingdoms of our Lord and of His Christ, and He shall reign forever and ever!'"
THE FEELINGS OF HUMAN PASSION AND COMPASSION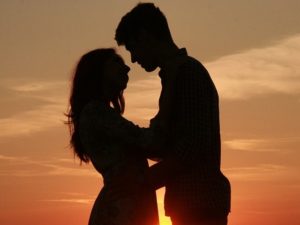 Do not mistake human feelings of passion or compassion for the true LOVE of God. The natural man does not know and cannot possess true love. There are major differences between pure holy LOVE that is from God and natural emotional passion and compassion.
The LOVE of God is first and foremost who God is. God is LOVE. Therefore the whole character of God is encompassed in His LOVE.
IN LOVE WITH GOD
Being IN LOVE means love is fully given and received by both parties. One can love another, but only when love is reciprocated can it be said that they are IN LOVE.
God's LOVE contains His POWER, WISDOM, and RIGHTEOUSNESS as well as His glory, His righteous wrath, and every characteristic and quality of the nature of God. All of these qualities of God flow into the human being that is IN LOVE with Father God, in Christ by the Holy Spirit. The results of God in the life of a human being include the experience of righteousness, peace, and joy filling the life now and forever.
God loves every human being on earth. However, NOT EVERY HUMAN BEING is IN LOVE with God. Those who are not in love with God can only know and experience the natural human passion or compassion of emotional feelings.
HUMAN REASONING
Also, the natural human can only attempt to balance or restrain his emotions with natural human reasoning, which is far short of God's wisdom and righteousness. Natural human reasoning lacks the power and wisdom of God's love. Therefore, it can be swayed or affected by the strength of human emotions.
A tension develops in the life of natural mankind between the natural emotions and rational intellectual reasoning. Both internal self-made laws or rules and external socially or religiously imposed laws or rules can cause strong tension with human emotions. This inner tension often results in stress that causes lack of peace and joy in life and can eventually lead to sickness and premature death.
GOD'S LAWS AND RULES
In the person not yet fully IN LOVE with God, God's laws or rules can help bolster the reasoning balance that is restraining natural human emotions. God-given laws and rules are useful for strengthening and training of the immature children of God.
God's law and rules are also a test for us to know if Christ abides in us by the Holy Spirit. When Christ fully abides in a human being, their walk is in alignment with the God-given laws without the need or effort of human reasoning.
Love fulfills and is beyond law and rules. All the law and the prophets are fulfilled by LOVE. (Matthew 22:37-40).
Those who are not yet in love with God and are not yet connected into the fountain of all-powerful, all-wise, and all-knowing love of God cannot naturally walk in aligned obedience to the will and ways of God. By the law, even the natural or immature man can see his lack of obedience to the ways of God and know to seek God to supply his need of salvation and empowerment. The law is a keeper and teacher for the immature believer. (Galatians 3:23-25).
Those who are not yet IN LOVE with God can only know of Him and His ways by the laws and rules of God.
ONLY those connected by the Holy Spirit into the resurrected life of Christ can become THE LOVE OF GOD ON EARTH.
The LOVE OF GOD cannot be learned or achieved by any amount of natural human effort or affection.
GOD IS LOVE, AND GOD IS SPIRIT. Only by impartation of the Christ-filled life by Spirit God can we BECOME THE LOVE OF GOD.
THE PASSION AND COMPASSION OF NATURAL MAN
Human emotions have NO inherent wisdom or power of godly discernment and truth. Man's unredeemed emotions can be completely blinded to truth and lead to grievous disorder in life.
In our world today, and especially in the United States of America, the spirit of anti-Christ has separated multitudes from the love of God.
Under the guise of secularism and humanism, ungodly men have filled the hearts of people with only human passion and compassion that loves and embraces evil but denies the true love and righteousness of God.
God's pure holy love is not blind. It is all-seeing, all-knowing, and all-loving in all-righteousness. Wisdom flowing in God's love in us produces godly discernment and discretion of righteousness. The natural human passion and compassion is without discernment and discretion that leads to embracing evil and denying the righteous love of God. Even Jesus with all love did not give all of Himself to all men because he discerned their hearts. (John 2:24-25). With pure holy love and not just natural human passion or compassion, we can know where not to "cast our pearls." (Matthew 7:6).
THE VICTORY OF GOD'S LOVE
The cataclysmic apocalyptic events will significantly change the world. The tribulation upon this world will bring an end to the world as we have known it. The world that was driven by unrestrained evil is coming down.
Christ in His people will cleanse the world. God is now cleansing and maturing the many Sons of God to lead the people of God into the age of the reign of Christ on earth in the REVELATION 21 reality of God with us on earth. The sea of unstable masses blown about by every evil wind will be no more on earth. The Bride people of God will arise in the power and glory of the pure love of God with us as the New Jerusalem ruling city of the Bride of Christ Jesus our King and Lord. God will dwell with His people in the fullness of the kingdom of God on earth as it is in heaven.
Be strong and of a good courage. Fear not little flock for it is the Father?s good pleasure to give you the kingdom. (Luke 12:32).
The kingdoms of this earth are becoming the kingdoms of our God. THANK YOU, JESUS!
Ron McGatlin
openheaven.com
basileia@earthlink.net 
---

2. OUR CREATOR'S ORIGINAL PLAN – By Bob Kloppel
In the present day we are beginning to regain a vision of the fullness of our Creator's original plan, which goes well beyond individual salvations. Salvation is obviously a critically important part of God's plan, but the fact is that there is more…much more! Salvation is the gift of God through Jesus that restores us to His family, enabling each of us to do our part in fulfilling the destiny of mankind. Our personal destinies are linked to it and when we fulfill them we help advance the bigger picture. Simply put, the earth is meant to be a heavenly place. It began when He pronounced the wild, undeveloped world He created as "good" and "very good". But it was not an end in itself. Rather it was a rich stage upon which human life would rise and prosper. Adam and Eve were getting to know God and their own identity as his spiritual children. When they came to the point of understanding this they would have been sent from the Garden of Eden into the wilderness beyond its gates where they were to be the first of a long line of builders of beautiful, dynamic, lasting civilizations.
The qualities and characteristics of those civilizations were to be the same as those of the Garden, which itself is a picture of heaven manifested into the material dimension of time and space. They include abundant provision, peace, beauty, joy, purpose, and love. In all of this, God the Father would perpetually be at the center as the source of life and of all good things. Mankind would find true joy and rich satisfaction in establishing and building societies of great peace and beauty. The strife and evil we see everywhere on earth today has no place in God's master plan! Suffice it to say that the world is in dire need of being steered away from our ongoing path of destruction. The coming Third Great Awakening is not only for our restoration as individuals, but for the salvation of the beautiful world God gave us as well. The Church has to lead the way by shifting out of religion to true relationship with God. The fatalism, shortsightedness, and lethargy have to go!
Bob Kloppel
Bob on Facebook 
---
3. News Headlines
Nikki Haley Shreds So-Called Pro-Choice Movement: "Being Pro-Abortion is Not Real Feminism" Jun 6, 2019
"The idea that women must adhere to a particular set of values is one of the most anti-women ideas in today's culture."a -Nikki Haley Lindsay Elizabeth : Jun 5, 2019  Faithwire.com (Washington, DC) — [Faithwire.com] Former United Nations Ambassador…
'Mind Blowing' Transformation: Solitary Confinement Prisoners from Rival Gangs are Baptized Together in Prison; 'God Had Done Something in Their Life' Jun 6, 2019
[FoxNews.com] "These guys literally know they're putting their life at risk and they're doing it anyway," the campus pastor said. "Never one time in my life have I felt like my decision to follow Christ has put me in danger or…
'This Is a Stunningly Bizarre Breach of the Public Trust, and It Must Stop': Citizen Outcry Cancels Two Publicly-funded Drag Queen Programs in Ohio Libraries Jun 6, 2019
"When I was first informed our public libraries were being used to teach teenage boys how to become drag queens, I thought it was a joke," Householder wrote. "But the joke is apparently on the taxpayers, who fund our libraries…" -Ohio…
Chinese churches adjust to increasing restrictions Jun 4, 2019
China (MNN) – Recent religious restrictions force churches to "think outside the box" when it comes to spreading the Gospel. In February 2018, the Chinese government increased restrictions in an attempt to Sinicize religion in China. This means the government is…
'I Thought We Were Going to Die': US Missionaries Ambushed, Saved by Mysterious Man on Motorcycle—'If God Can Carry Me through This … God Can Carry You' Jun 1, 2019 "And that's when I looked back to see [Doug's] face covered in blood and I could see he had two visible wounds and possibly more just based on the amount of blood that I saw," Pasler continued. Then the gunman put his rifle up to Dr….
Government-led oppression in Vietnam Jun 1, 2019
DIEN BIEN PROVINCE, VIETNAM (ANS) — Government-led oppression in Vietnam has rendered tens of thousands of Hmong Christians stateless, leaving them without household registration. written by Michael Ireland May 31, 2019 Government-led oppression means that without…
Louisiana's Democrat Governor Signs Heartbeat Bill! Defies Party's "War Against Pro-Life Democrats" May 31, 2019
The brave governor is now facing a backlash from his own party as Democrats blast the pro-life governor on social media for supporting Louisiana's heartbeat bill. Charlene Aaron, Benjamin Gill : May 31, 2,,019  CBN News (Baton Rouge, LA) — [CBN News] As…
Prayer Alert News: UK, Europe, and Worldwide May 31, 2019
Praise Reports Christian Alexa asked 75,000 questions in first year British Visas for Afghan translators Europe Italy: Migrants refused entry Germany: Jews told not to wear skullcaps British Isles Equality watchdog and Labour Party Migrants – Skills gap Children at…
WE ARE BACK IN THE LAND OF OUR MISSION HOUSE – Mahamba Wa-ibera Evariste, Beni,DRC May 31, 2019 |
Dear in the Lord, Thank you very much for continuing to pray for peace to return in Beni as the ADF/NALU killed many people with guns, machetes, knives, axes and causing many people to abandon their fields and homes. They are no long killing people but they are now…