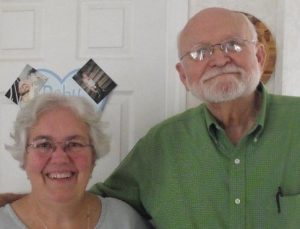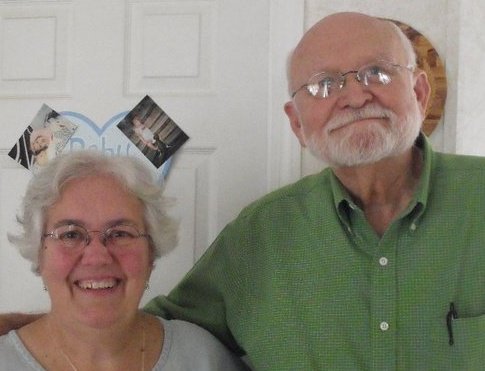 .
.
*****
In This Issue
1.AMERICA AWAKE AND ARISE!! – By Ron McGatlin
2. Ron and Barbara's 20th Wedding Anniversary – Today August 29, 2018
3. News Headlines
.
.
.
.
.
.
.
1. AMERICA AWAKE AND ARISE!!
By Ron McGatlin
All the world awaits the sons of God.
The enemy of God and man has amassed an all-out campaign in an unprecedented attempt to deceive America and the world and thereby stop the coming forth of the sons of God and the kingdom of God on earth.
A massive persuasive flood of vile and vicious words to destroy the reality of the kingdom of God are coming forth in this world.
DO NOT TURN AWAY FROM THE URGENCY OF THIS MOMENT TO THE DISTRACTIONS OF POLITICAL RATIONAL AND NATURAL LIFE AS USUAL.
The massive outpouring flood of vile accusative words coming forth from mass media against the president of the United States of America is a coordinated orchestrated attempt to stop the works of God in this world.
THIS IS NOT JUST A POLITICAL WAR OF WORDS.
THIS IS ABOUT "GOD" OR "NO GOD" IN AMERICA AND THIS WORLD.
IT IS ABOUT "ANTI-CHRIST" OR "CHRIST" TO RULE IN THE NATIONS OF THE WORLD.
Make no mistake, every person alive who names the name of Jesus is opposed and hated by the spirit driven deceptive forces at work in high places of this world.
THIS IS NOT A CONSPIRACY THEORY. IT IS DOCUMENTED IN YOUR FACE REALITY. THIS IS THE DAY OF AMERICA AND THE WORLD AWAKENING AND ARISING. THE DAY OF ALL OF THE CHURCH JOINING FORCES TOGETHER AGAINST A COMMON FOE OF UNPARRAELD DARKNESS.
AWAKE ARISE AND PRAY TOGETHER EVERY PERSON THAT NAMES THE NAME OF JESUS, IN THIS NATION OF AMERICA AND IN THIS WORLD.
Awaken to reality. Arise from the flood of mass media accusative propaganda against President Trump who has led in getting government out of the way of the church and the coming works of God in His people worldwide. God must rule in the land and in the governments of the land.
Do not allow the political and racial divisive accusative words and beliefs to prevent all of us who name the name of Jesus from joining together to pray for the will of God to be done and the kingdom of God to come in the name of Jesus.
A MOST IMPORTANT TIME
Awake and Arise to make you voice heard in prayer and in decreeing into the world by VOTING in NOVEMBER this year for members of congress in your area that will assist in the current work of bringing the government in line with the plan and works of God in Christ Jesus by the Holy Spirit. Vote for the men and women who will support the current move to make room for Jesus in our nation and the world. President Trump must have godly men and women in congress to continue the move toward religious freedom in this world.
Awake and Arise. Make a declaration by your VOTE in November this year!
Please watch this urgent informative 17 minute video by Lance Wallnau for more vital understanding of these very important issues.
Watch This Video: https://www.facebook.com/LanceWallnau/videos/263231117636013/ 
 Arise, shine; For your light has come! And the glory of the Lord is risen upon you.  Isaiah 60:1.
Ron McGatlin
www.openheaven.com
basileia@earthlink.net
---

2. Ron and Barbara's 20th Wedding Anniversary – Today August 30, 2018
I praise God for twenty years of blessed and happy marriage. Not bad for getting together in an early fall (stage of life) marriage. To some degree I believe that I know how the Lord feels about His truly faithful Bride and wife.
I am blessed among men to have such a deeply loving and godly wife. Barbara is a true prayer warrior for me at all times, and has literally saved my life more than once. I thank God for the past twenty years of life together as one with one another in the Lord.
Thank you to all of our dear friends reading this that have joined with us in fulfilling our callings in the Lord for the past two decades and hopefully the one to come.
He who finds a wife finds a good thing, And obtains favor from the Lord. Proverbs 18:22.
Ron McGatlin
www.openheaven.com
basileia@earthlink.net 
---

3. News Headlines
President Trump Announces Historic Trade Deal with Mexico: Canada Next? Aug 28, 2018
"If you had asked me six months ago are we going to get a trade deal with Mexico before Canada? I would have said it was so improbable, but here we are." -Stephen Moore, Heritage Foundation Gary Lane : Aug 28, 2018 : CBN News [CBN News] The United States…
The President and First Lady's Dinner for Evangelicals
Aug 28, 2018
President Trump and Melania Host Evangelicals at White House: "Faith and Family, Not Government, are the Center of American Life" "Every day, we're standing for religious Believers, because we know that faith and family, not government and…
Urbana 18 brings opportunities Aug 28, 2018
USA (MNN) — InterVarsity Christian Fellowship's Urbana 18 is getting closer and with it, the excitement and opportunities for ministry-minded students are growing. What is Urbana "Urbana is a student missions' conference and we're committed to all three of those…
School Drops Pledge of Allegiance for Oath to "Global Society": Parents Fight Back and WIN! Aug 27, 2018
I think parents should take heart … in that the administration was forced to change their minds and go back to having the Pledge of Allegiance. And I think parents can learn from this that they DO need to speak out, and they do need to know what's going on…
"Finally Putting an End to the Lie": President Trump to Cut UN Aid to Palestinian Refugees Aug 27, 2018
"International aid funds do not help the Arabs of Judea and Samaria, but rather the corrupt leadership there. It aids the families of terrorists. US Cuts Over $200 Million in Assistance to the Palestinians. Exposing the administration's plan to revoke the…
10,000 Gather to Declare 'OneRace' and Repurpose Stone Mountain for Brotherly Love Aug 27, 2018
Over 10,000 Christians Meet at KKK Monument to Repent of "Sins of Racism" In 1915, the Ku Klux Klan (KKK) burnt its first cross in public on top of Stone Mountain, and nearly 55 years ago to the date of OneRace at Stone Mountain, Dr. Martin Luther King…
Why the White House is Hosting a Huge Dinner for Evangelical Leaders Aug 27, 2018
Why President Trump, and First Lady Melania Are Hosting a Huge White House "This was actually the President and First Lady's idea to have a dinner to celebrate evangelical leadership. The White House is very aware that evangelicals have been some of the…
750,000 People in Colombia and Around the World hear the Gospel Aug 27, 2018
Evangelist Andrew Palau Shares Gospel with 200,000 in Bogotá, 550,000 via Facebook Live written by Michael Ireland August 24, 2018 BOGOTÁ, COLOMBIA (ANS – Aug. 25, 2018) — Fifty-two years after renowned evangelist Luis Palau's first major campaign in Colombia's…
People Really Want It: New TV Show About the Life of Jesus Breaks Crowdfunding Records Aug 25, 2018
Many Christian leaders have gotten behind the project, including Ravi Zacharias, Anne Graham Lotz, Phil and Kay Robertson, Alveda King and NRB President Jerry B. Johnson. Lindsay Elizabeth : Aug 23, 2018 : Faithwire.com [Faithwire.com] With faith-based films on the…