UNREQUITED FATHER'S LOVE – Ron McGatlin
Father God is love.
True love is only from God.
There is no other source of pure holy unconditional love.
The seed of all life and all true love originates in Father God.
All life of righteousness, peace and joy flows from Father God in heaven from pure holy love.
 
There is no darkness of evil. There's no downside at all in the pure holy love of God. (1 John 4:7-21).
ALL LIFE IS FROM GOD
There is no life apart from God. Separation from God is death.
All sickness, disease, disasters and all darkness of all evil exist in this world only apart from the pure holy love of God. In the presence of the fully manifested pure holy love of God, darkness cannot exist in any form. (Romans 6:20-23) (1 John 1:5) (Ezekiel 18:4).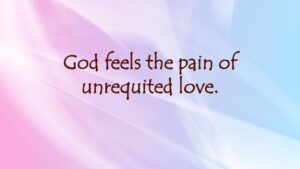 None of the problems of the disorder of death in this world are due to a lack of God's life-giving love. All death and all of the insane disorder of this current world are directly due to the LACK OF RESPONSE OR REQUITEMENT OF MANKIND TO THE LOVE OF GOD! (Matthew 22:37-40) 1 Corinthians 2:9-14).
Mankind receiving the pure love of God in Christ Jesus by the Holy Spirit and reflecting it back to God will dissolve all evil darkness.
God's pure love brings Truth. (Galatians 5:14).
GOD'S TRUTH IS IN HIS LOVE AND HIS LOVE IS IN HIS TRUTH
So called "love" without truth is a deadly form of deception. "Love" without truth is not the love of God but a false deception of man's fallen humanistic mind. Some of the western religious church systems have developed a humanistic form of a pseudo love affection of acceptance and equality with darkness and deception instead of the true love of God. In other words, there has been an acceptance of being yoked together with evil darkness as if it was the love of God. 
GOD'S LOVE PURIFIES
"If we love one another, God abides in us, and His love has been perfected in us. By this we know that we abide in Him and He in us, because He has given us of His Spirit. And we have known and believed the love that God has for us. God is love, and he who abides in love abides in God, and God in him. We love Him because He first loved us." 1 John 4:12b-13,16,19.
Falling in love with God is requiting or responding to the pure all-consuming love of God. The fire of the true love of God fills every fiber of our hearts and lives with pure passion of and for God. Love and truth set us completely free to abide and even rest in the fullness of righteousness, peace and joy of Spirit God. "Our God is a consuming fire." Hebrews 12:29.
Meeting God in His manifest presence is the way to experience and respond to the reality of the pure holy all-consuming love of God. (John 14:21).
The manifest presence of God's love purifies even the vilest heart and life. The miracle working power and wisdom begins to flow as the love of God heals and renews every part and portion of our broken or damaged soul and body.
Spirit God recreates us from the inside out. This is the reality of being born again a new creation and all things made new. (2 Corinthians 5:17) (John 3:3-8).
SHOULD WE STOP DOING JUST A RELIGIOUS CHURCH THING AND GATHER TO PRAISE GOD UNTIL HIS PRESENCE COMES TO CONSUME US IN HIS PURE HOLY LOVE?
The word will become truth and life in the presence of Spirit God in and with His people. Then we are quickened or made alive to do and say as Spirit God leads.
Love and truth in His presence opens the way to walking in Spirit God and knowing what He is doing and saying. When we hear and see in the Spirit, we can join with Him in doing that which we see and hear the Father saying and doing.
BIRTHING THE WILL OF GOD
God will seed His desires and designs into our hearts in thoughts and ideas that become visions of life that will change this world.
As we receive the vision of God and pray the vision back to Him, all the resources in heaven and on earth begin to move into place to form or create the reality of change in this world. Lift the vision, that He has given to you, up to Him and ask Him to bring it forth into the world and trust Him to give you the next step. (Mark 4:26-32).
Because the vision is the will and plan of God, He will begin to bring about all that is needed to create the reality of the vision into the natural realm on earth. Different peoples and nations of the world will, without realizing it, begin to build or make or in some way provide parts of that which will be required for the vision to be completed in this world.
This is the designed purpose of mankind as God's only created interface between Spirit God and His created natural or physical world. Dominion on natural earth in perfect love union with Spirit God is the plan and purpose of God in all mankind, in your life and mine. 
GROWING THE WILL OF GOD ON EARTH
The love relationship in and with God is the source of the release of the power, wisdom and purposes of God to recreate mankind and planet earth into just as it is in heaven.
Continuing as one with God enables us to grow the plan of God on earth. From the seed planted in our hearts to the ideas and thoughts that become a vision and then on to a finished work, this is all a work of God. It is all done by the power of God. (Matthew 13: 18-23).
A seed of grain planted in the soil of the earth will sprout and grow a blade and then a stalk and then the full head of grain. So it is that the heart of man, like the soil, will grow the plant from the seed. We do not grow the plant or the full head of grain; the soil of our heart connected as one with God grows the seed into the full production of the plan and will of God on earth as it is in heaven. (Mark 4:26-32).
We then become the seed of God sown into this world to grow the life plan and purpose of God on earth.
BEING IN LOVE WITH GOD RELEASES THE POWER OF GOD TO CHANGE THE WORLD!
The spoken word of God created the world, the universe and all that is created. The power and wisdom far beyond the understanding of mankind was released through the spoken words of God. (Genesis 1).
Father God then made man in His image and likeness and gave him dominion over His created world. Mankind in Adam was given dominion over Planet Earth and all life on the planet. God also gave mankind the assignment to tend the Garden of Eden and to be fruitful and multiply to fill the world with God's plan and purpose. (Genesis 1:28).
God's assignment to mankind has never changed. His perfect plans for this world wait for mankind to return through love to the plan and provision of God to reestablish the Garden of Eden life of righteousness, peace and joy in the Holy Spirit of God through Christ Jesus our Savior, Lord and King forever.
Fall in love with God in Christ Jesus and return to the glorious life of our part of restoring the plan of God on earth. All things are possible in love with God!
THE SUPERNATURAL GLORY OF THE LOVE OF GOD
The natural world desperately awaits mankind's alignment with the full purpose and will of God. Only man becoming the pure sons of God in Christ Jesus can set the created world free from the curses of misalignment and darkness created by the fall of man. (Romans 8:19-22).
All the created world will rejoice in great glory as mankind moves fully into love with God and fulfills our purpose of God to restore this world into the perfect order and will of God. Righteousness, peace and joy wiii again fill the earth. The Garden of Eden lifestyle will fill the earth with the glory of God on earth as it is in heaven. (Matthew 6:10).
THE HIDDEN TREASURE AND PERFECT PEARL
The hidden treasure and the perfect pearl of life is being IN A PURE HOLY LOVE RELATIONSHIP WITH GOD IN CHRIST JESUS! This involves figuratively selling all that we have in order to purchase the perfect pearl or the field of treasure. Or said another way, leaving all of our past life to live an abundant life in the manifest presence of God in us and with us. It is being saturated in His pure holy LOVE to forever rule and reign with God in Christ Jesus by the Holy Spirit. (Matthew 13:44-45) (Matthew 16:25)
"So He said to them, 'Assuredly, I say to you, there is no one who has left house or parents or brothers or wife or children, for the sake of the kingdom of God, 30 who shall not receive many times more in this present time, and in the age to come eternal life.'" Luke 18:29-30.
The best trade that any person can ever make is his or her broken life for His life of pure holy love in His glorious manifest presence now and forever!
Love Never Fails,
Ron McGatlin
openheaven.com
basileia@earthlink.net