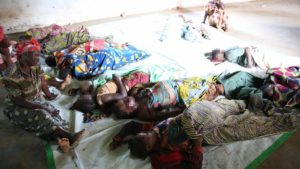 Dear in the Lord,
After the killing by rebels of more than 100 civilian people in
Beni last month and after 14 days of no activities in Beni as angry
young people had been manifesting violently; today has been a new
day in our town.
All activities have started this morning in our town.
And according to the army report rebels are being defeated so much.
May you be praying so that there can be peace in Beni before
Christmas. And if God provide we will give gift to children and orphan
children on Christmas day.
Today is the 5th prayer meeting of the 21 days of prayer for the end
of war in Beni. And people have experiencing the presence of God.
May you continue to pray for the presence of God in the remaining
days.
I take this opportunity as I let you know that our last mission of
July in Kitsombiro/Lubero Territory has produced abundant fruits: the
people whom we trained in Kitsombiro have planted a new church at
Kirikiri village at about 30 Kms from where they are living.
And 22 new born again Christians will be baptized in Kitsombiro city
on 15th of this month.
We need God's provision for their Bibles and hymn songs. I could go
there with a team but it will not be possible because we continue
with the 21 days of prayer.
So if God provide we will send Bibles and hymn songs there.
Thank you for praying for our safety and for the starting of
activities in Beni and may God bless you abundantly
Our vision: Planting Churches around the nations of the world as we
minister to people who have no hope.
MAHAMBA WA-IBERA EVARISTE
FOUNDER AND SENIOR PASTOR OF EBENEZER EVANGELICAL CHURCH INTERNATIONAL
BASED IN BENI, DEMOCRATIC REPUBLIC OF CONGO, CENTRAL AFRICA
E-mail:mahambawaibera@gmail.com
+243995698534, +243820254937