"It's a Miracle. The Way God Planned It": Doctors Stunned and Baffled after Man's Brain Tumor DISAPPEARS!

His doctors  are so fascinated by his recovery, they have asked him to participate in a research study.
Steve Warren : Nov 12, 2018 : CBN News
(Lodi, CA)—[CBN News] A man in Lodi, California, who was diagnosed with a malignant brain tumor, says it disappeared without any medical treatment. All he did was ask fellow Believers to pray for him. (Screengrab image: Scan (right-w/tumor), (left-after tumor disappeared)/via CBS 13-Local News)
Paul Wood says he realized several months ago that there was something wrong with him.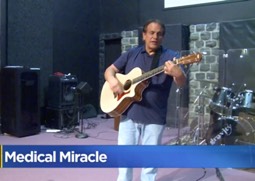 "I had massive headaches, I couldn't walk down the hallway without holding on to the walls," he told television station KOVR.
Wood's doctor recommended he see a neurosurgeon at UC San Francisco. The specialist initially diagnosed a brain bleed, but a radiologist also saw the signs of a tumor.
Wood did what any faithful Christian would do. He turned to God and also asked his brothers and sisters in Christ for prayers and support.
"My phone is blowing up, my Facebook is prayer after prayer, all over California," he told the television station.
Then the unexplainable happened. The day before he was scheduled to have surgery, doctors canceled Wood's operation. The tumor was gone. There was no trace of it. It had disappeared.
"It's a miracle and that is the way God planned it," Wood said.
The neurosurgeon can't explain why the tumor completely disappeared. Wood's doctor says some things just can't be explained medically.
"We do tests and we have medical technology and we try to come up with some conclusion … sometimes things happen that we can't explain," said Dr. Richard Yee.
Jason McEachron, the pastor at Gravity Church, where Wood is a member, believes there's a higher power at work, especially when it comes to a number of prayers.
"He just kept saying, 'no matter what happens to me, I'm going to be okay. I trust God,'" McEachron told the station. "And that was an inspiration for a lot of people around him."
Wood says he's just glad for a second chance at life and believes it is an opportunity to teach others about hope.
His doctors are so fascinated by his recovery, they have asked Wood to participate in a research study.