Clean Water of Cleansing – By Jerry Joyner
Ezekiel 36: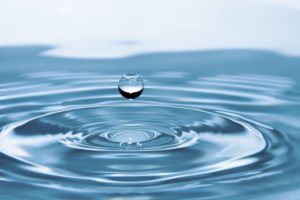 24-31 For I will take you from among the nations, gather you out of all countries, and bring you into your own land. Then I will sprinkle clean water on you, and you shall be clean; I will cleanse you from all your filthiness and from all your idols. I will give you a new heart and put a new spirit within you; I will take the heart of stone out of your flesh and give you a heart of flesh. I will put My Spirit within you and cause you to walk in My statutes, and you will keep My judgments and do them. Then you shall dwell in the land that I gave to your fathers; you shall be My people, and I will be your God. I will deliver you from all your uncleanness's. I will call for the grain and multiply it, and bring no famine upon you. And I will multiply the fruit of your trees and the increase of your fields, so that you need never again bear the reproach of famine among the nations. Then you will remember your evil ways and your deeds that were not good; and you will loathe yourselves in your own sight, for your iniquities and your abominations.
It's amazing to me how much the Word of God keeps becoming alive in me. I can so identify with these scriptures. This is exactly what God is doing in my life. I am sure to everyone who has ever striven to enter the narrow gate, whether they realized the truth and read this particular passage of the Holy Bible or not they would identify with these words of truth. Again, as always this passage must be spiritually discerned. Washing of the water of the word as rivers of life spring out of our innermost being. As we dwell in the promised land no matter where we are geographically, is of course spiritual. And as God becomes Lord, He suddenly begins to multiply our fruit of the spirit and it just drives us into more and more of a burning desire to cling to Him and desperately want to please Him. We truly begin to live in the promised land. We are set free and need never again bear the reproach of the lack of spiritual truth which is in the world. This famine mentioned here is an absence of the truth in the world today because we as a people have forgotten our God. As we walk with God, as Christ is formed in us, the grain (bread of life), is multiplied in the earth. Scripture gets truer and truer, deeper and deeper as we are purified by the washing of the water of the word. Selah.
Excerpt from "What God is Saying" By Jerry Joyner, Available on Amazon