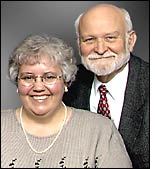 In This Issue
1. IMMINENT EXTREME CHANGE IN OUR LIVES
2. PROPHETS OF HIS HEART, STAY POSITIONED FOR A TIDAL WAVE ENCOUNTER WITH HIS POWER IS UPON YOU!!
3. News Headlines
SUBSCRIBE OpenHeaven.com Digest
IMMINENT EXTREME CHANGE IN OUR LIVES
By Ron McGatlin
One of the three most significant events in the history of man is coming to fruition in this season of God and man. The three significant events in the history of mankind and the world are: the creation of man, the fall of man, and the redemption of man and the world. The first two major events are completed, and the third is now coming to fullness in man and the world.
Because mankind was given dominion, the entire world has followed the state of mankind. In man's original created state, the entire world was to become as the Garden of Eden, and it was going that direction until the fall of man. The whole earth has suffered since the fall of man. The earth was subjected to futility by the disobedience of mankind and now awaits the mature obedient sons of God to fully redeem and restore the world.
"For I consider that the sufferings of this present time are not worthy to be compared with the glory which shall be revealed in us. 19 For the earnest expectation of the creation eagerly waits for the revealing of the (mature) sons of God. 20 For the creation was subjected to futility, not willingly, but because of Him who subjected it in hope (of man turning back to God); 21 because the creation itself also will be delivered from the bondage of corruption into the glorious liberty of the children of God." Romans 8:18-21. The fall of man has hindered the fullness of God from flowing with and through mankind to bless the earth to become the Garden of Eden.
A natural man by his natural mind knows and functions in natural things. A living Spirit man knows and functions in spiritual things as well as natural things. Natural man without the Living Spirit God is not the person God originally created mankind to be. Man was created a Spirit being in a natural body to relate fully with God and structure life on earth according to the leadership and direction of God. At the fall, man lost the close intimate relationship with God and began ruling life from his own mind influenced by the deception of the enemy. Natural man no longer knows or remembers the way of life of oneness with God that we all had in Adam before the fall.
Christ Jesus is the way.
In His incarnate lifetime on earth, Christ Jesus re-taught and demonstrated the way of life in oneness with God to mankind. He provided for the salvation of men so we could transform the World. Jesus preached and demonstrated the kingdom of God in and with mankind on earth. Everything needed for you and me to become the sons of God abiding in the kingdom of God and earth has been provided in Christ Jesus.
The redemption of man and the world began at the cross. Restoration of new resurrection life for mankind began at the resurrection of Christ. The transformation process of mankind and the world began at Pentecost as Spirit Christ returned in the Holy Spirit to abide within His people to restore the world to the kingdom of God, the Garden of Eden life on earth.
The Enemy Opposition
The enemy is given authority on earth by the refusal of much of mankind to believe and receive the works of Christ Jesus in the cross, His resurrection, ascension, and His return at Pentecost to indwell His people to redeem and restore man and the world to the kingdom of God. Man without the Spirt of Christ within has no access to the magnificent, all powerful, all knowing, and all loving way of the tree of life.
Natural man is left to draw only mixture and eventual failure from the tree of knowledge of good and evil. The guidance and power to complete the work of redemption and restoration of man and the world is lost to the natural man without the Spirit of God.
The Season of Transformation
You and I are alive on Planet Earth in the season of mankind returning to the tree of life and the great transformation of the world to the kingdom of God on earth as it is in heaven. Every day more people awaken from religion to the reality of God in and with His people.
All that man and the enemy have built on earth that is not of God must be either redeemed or dissolved.
The Mighty Roar of Transition
The roar of apocalyptic cataclysmic events coming upon the world is bringing the end of this era of mankind being ruled by evil forces of darkness. No person or thing can or will stop the transition of the world and all that is in it from being transformed into the image and likeness of God and heaven.
Life as we have known it is changing forever. How will people endure the extreme changes to their way of life?
We need to understand that it is the love of God for this world and for His people that allows the extreme events that dissolve all that is not from God in this world. God so loved the WORLD that He gave His only begotten Son. God has spared nothing to redeem and restore the world. Cleansing judgment upon the world must come to remove all that will not turn to God so that Christ Jesus can fully reign in the kingdom of God on earth as it is in heaven.
The cleansing judgments have now begun at the "house of God." "For the time has come for judgment to begin at the house of God; and if it begins with us first, what will be the end of those who do not obey the gospel of God?" 1 Peter 4:17.
The eyes of political and religious leaders have been blinded causing them to not see the destroyer encroaching upon the land. Evil is seen as good and godliness is seen as evil in the eyes of the spiritually blind leaders that are leading the spiritually blind people.
THE REWARD OF THE WICKED IS NOT FOR THE RIGHTEOUS.
You will only look upon and see the reward of the wicked. It will not come near you.
"A thousand may fall at your side,
And ten thousand at your right hand;
But it shall not come near you.
8 Only with your eyes shall you look,
And see the reward of the wicked.
9 Because you have made the Lord, who is my refuge,
Even the Most High, your dwelling place,…"
PLEASE NOTICE THE QUALIFICATIONS OF THIS VERY IMPORTANT PROMISE.
Being a "Christian" does not necessarily qualify anyone to receive these promises. Being a church member and attending regularly does not necessarily set us apart from the judgments that begin at the "house of God." Trying to do good things for God does not qualify us.
IT IS NOT HOW YOU LIVE; IT IS WHERE YOU LIVE!
It's about where we dwell. Only if we have made the LORD the Most High our dwelling place can we be partakers of these promises in this season of cleansing judgment that has now already begun.
The LORD Most High is Spirit. Dwelling in the LORD is abiding as ONE with Spirit God. DWELLING in the secret place of the Most High and ABIDING under the shadow of the Almighty is more than just visiting with God from time to time.
"He who dwells in the secret place of the Most High
Shall abide under the shadow of the Almighty." Psalm 91:1.
All of this does NOT mean that our lives will continue on as usual and unchanged. On the contrary, all of our lives will probably go through much change as we truly become one Spirit with God as mature sons of God doing the business of our Father from heaven in this world.
Whether we are taken home to be with the Lord or we make the LORD Most High our dwelling place, our old lives are gone and life is radically changed.
PLEASE READ AND MEDITATE Psalm 91. It is only 16 verses yet it is filled with wisdom for this season of great troubling in the world.
Our lives as we live in the Spirit and walk in the Spirit abiding in Christ Jesus does not consist of things of this world. Our lives consist in Christ and Christ in us. As mature Sons of God dwelling in Christ and Christ in us, we are the masters of this world bringing the love, power, and wisdom of God to rule and reign in this world with Christ in us by the Holy Spirit.
Whether we live long on earth or die young in battle is not the major issue of our lives. The major issue is being and doing all God has sent us to this world to be and do. The most important thing is to accomplish our part and finish the course so as to hear at the end, "Well done, you good and faithful servant." We do not want to take anything to the grave with us that God has given us to impart to this world.
Jesus said, "Abide in Me, and I in you. As the branch cannot bear fruit of itself, unless it abides in the vine, neither can you, unless you abide in Me. 5 "I am the vine, you are the branches. He who abides in Me, and I in him, bears much fruit; for without Me you can do nothing." John 15:4-5.
Ron McGatlin
www.openheaven.com
basileia@earthlink.net
2. PROPHETS OF HIS HEART, STAY POSITIONED FOR A TIDAL WAVE ENCOUNTER WITH HIS POWER IS UPON YOU!!

By Lana Vawser
"O Lord, God of our ancestors, you alone are the God who is in heaven. You are ruler of all the kingdoms of the earth. You are powerful and mighty; no one can stand against you!" – 2 Chronicles 20:6
During worship I had a vision of a huge tidal wave bursting out of the heavens and flooding towards earth. This tidal wave was made of lightning, stream after stream, after stream of lightning. As it moved I could hear the sound of the crackling of power. Such intensity, but there was no fear. An incredible sense surrounded me that NOTHING will stand in the way of this tidal wave His power.
NEW ELECTRIFYING START
I can hear Him speaking as the wave is crashing in "PROPHETS OF MY HEART, THE WATERS ARE ABOUT TO PART, THIS IS A BRAND NEW ELECTRIFYING START!!"
I watched as this tidal wave began to crash in over the lives of the Prophets!
I then see the Lion of Judah and He is riding this tidal wave and as the wave crashes into the lives of the prophets, I see Him land on the ground. He lifts up His foot and stamps it down hard. I watch what looks like lightning bolts spreading throughout the lives of these prophets and the whole atmosphere around me is filled with authority and the stamping of His foot decrees "NO MORE!!!!! IT IS TIME FOR THE UNHINDERED RELEASE OF MORE"
ALL attacks, injustices, circumstances hindering and holding back the prophets of His heart are being BROKEN in this tidal wave. NO MORE! The justice, breakthrough, recompense, redemption, vindication and healing of God is being released. Nothing is standing against His decree of "NO MORE"!! It is decreed, it is done!!!!
Instantly I hear birds singing loudly all around and it's the sound of a new day!
The prophets of His heart are going to transition suddenly in the coming days, weeks into a completely new level. A level of the UNHINDERED RELEASE OF MORE!!!!!
Such a significant breakthrough catapulting the prophets of His heart into an entirely new land like they have never known. Into a revelation of His Word that is deeper than they could imagine and a purity of the prophetic flow accompanied with a greater level of manifestation of the fire of His love and signs and wonders!
CHARGED TO IMPART
"These encounters with My power for the prophets of My heart are about to occur on such an unprecedented scale, they will be CHARGED AND THEN RELEASED TO IMPART."
There will be significant manifestations of the power of God in these encounters that are going to CHARGE the prophets of His heart with greater strength, greater boldness, greater awakening to their authority and greater sensitivity to His leading taking them to a whole new level of prophetic accuracy and sight.
Prophets of My heart are about to be clothed with greater power, My power
IMPART
These prophets of His heart are now forerunning and being positioned quickly to set the stage for what God is about to do and then release impartations for deep encounters with the heart of God that will see His power released for sudden and increased momentum of groundbreaking breakthrough throughout the entire body of Christ.
BUT YOU MUST STEP IN
I heard the Lord say "But you MUST step in"!!! Once the breakthrough comes you MUST STEP IN! It is completely new, so it will look nothing like you have experienced before but I will guide you, teach you and lead you and you will see a move of the power of My Spirit through your words and lives like you never have spread into My Bride and out into the world in explosive ways. But through your positioning and obedience you MUST step in! Fear will be the one thing to steal your new level of destiny if you allow it! You must step in! Prophets of My heart, as you have steward My heart in purity and obedience, I am moving you into a whole new realm of favour and promotion right now, but you must live LOW in order to release the PURE FLOW!!"
"I CALL THEM MY POWERHOUSES!!"
I heard a booming voice all around me in this vision so loudly that spoke "I call them My power houses for they know how to carry My power with purity."
TENFOLD FLOW
The sense surrounded me that these prophets of His heart are going to see the presence and power of God rest upon their lives in exponential ways with such great increase. There is a TENFOLD FLOW of His power that will be released from them wherever they go! The key is they have learnt to host His presence with purity and humility.
Kings and queens of the earth will begin to flock to these prophets of His heart as He now begins to lift them up onto the worlds stage. Not for anything else but His Glory to shine brighter than EVER and His Kingdom extended. These high places the Lord is raising the prophets of His heart up onto will see a wave of the fire of His love sweep through churches, cities and nations and BREAK DOWN ANY LIES that have been built declaring that Jesus is anything BUT GOOD! These prophets of His heart as they minister will see a great awakening and reshaping released through them bringing the true nature of Jesus and His goodness into FULL VIEW!!!
A WHOLE NEW REALM
These encounters with the power of God are not only setting these prophets free and releasing groundbreaking breakthrough to them and through them, it is moving them into a whole new realm.
THE NEXT FOURTEEN DAYS
I kept hearing the words "The crossover is happening in the next 14 days". (Up until July 7th, 7/7) 14 being the number of deliverance and a double portion. These encounters with His power are seeing a great deliverance of what has held these prophets back and releasing them into DOUBLE! But there must be an intentionality in "entering in" in whichever way the Lord leads over the next 14 days. Significant crossover into a whole new realm.
This new realm, is a whole new world, unchartered territory but as they say YES to Him, I saw Jesus take them deep into a place of learning and strategy. I saw the prophets of His heart in a place with Jesus, sitting at a table and in the "go" (the favor, promotion, acceleration of the new realm), He was teaching them the new strategy for the season. Blueprints of divine wisdom and highlighting keys in the Word to see the new giants in the land come down.
There was such an increase of anointing and grace in this new realm that they were moving into a whole new realm of overcoming.
From this place of learning and teachability with Jesus for the new season, I watched as what looked like bombs of fire fall into the mouths and pens of the prophets and they were impartations of the wisdom of God married with the fire of His love that is about to be released through in significant increase as they minister.
There has been a great attack on the wisdom and revelation coming to the prophets because there is an increase of the revelation of heaven and wisdom to know how to walk it out, coming to them now!
STRATEGY! The prophets are moving to a higher level of divine strategy personally and corporately.
Prophets of His heart, stay positioned! The opposition has been relentless this last whole but these next 14 days are crucial! Do not give up! Press in!!! For significant encounters with His power are upon you to bring deliverance to you and cross you over into a whole new double portion realm.
Lana Vawser
Link>
3. News Headlines
Dawn of a New Friendship? Evangelicals Talk Trump after Big Meeting – 6/23/2016
Protecting religious liberty is at the top of his list. He promised to appoint Prolife Supreme Court justices. He promised economic justice as a means of lessening the bands of racism. He promised safe borders for America. He promised to strengthen our military to protect our nation.Trump is establishing an evangelical executive advisory board, composed of 25 faith leaders…
Full Article »
In 'Coal Country Revival,' 4000 gave their lives to Christ – 6/23/2016
In the small towns that dot the mountainous coal region of West Virginia, a revival that began in April brought 4,000 souls to Christ over eight weeks. The number of people saved exceeds the population of the two towns at the center of God's move of the Spirit. "The population of Delbarton is 500 and Williamson is 3000." Many were drawn from other counties and states.
Full Article »
Finally, some Good News from Ukraine; Christians pray for a miracle to restore their broken and divided nation – 6/23/2016
For the first time in the history of Ukraine, all of the churches of the country recently came together for a National Day of Prayer for their war-torn nation and for peace. The three-hour event on Saturday, June 18, 2016, was attended by thousands at the National Sports Palace in Kiev, the capital of Ukraine, and broadcast "live" by 3 national TV channels.
Full Article »
To leave Islam is 'treason' – 6/23/2016
To convert away from Islam is "treason" that should carry the death penalty, according to Sunni Islam's topmost religious authority. "The penalty is well stipulated in Sharia," Azhar is a major ideological force behind the propagation of Islam in non-Muslim countries. "An apostate must be pressed upon to repent within a variable period of time or be killed."
Full Article »
Refugee numbers break record of 60 million – 6/23/2016
The number of refugees has now officially broken the record of most internationally-displaced persons in recent history. The number of refugees topped 65.3 million at the end of the 2015. It's the first time that number breach 60 million. 54 percent of these refugees come from Syria, Afghanistan, and Somalia. Half are children under the age of 18.
Full Article »
Murdered pastor and his North Korea legacy – 6/23/2016
Somewhere in China, along the border of North Korea, Pastor Han Chung-Ryeo persisted in his work of ministering to the North Koreans. Han worked along the border for decades, providing whatever was needed to people. He helped with physical needs and shared the Gospel. Han's badly beaten body was hardly recognizable when found in April.
Full Article »
We call on the BBC to reject proposals to reduce and downgrade Christian programming. – 6/23/2016
We call on Lord Hall, Director General of the BBC, to protect the UK's Christian heritage and reject proposals to reduce and downgrade Christian programming in favour of more coverage for Muslim, and Sikh faiths. We further call for Aaqil Amhed, Head of Religions for BBC, to be removed from office on the grounds of Islamic bias and clear disrespect for Christian belief.
Full Article »
Eight new JESUS Film translations; one dedication – 6/23/2016
Imagine a population the size of Houston, Texas had never seen a film in their own language. And then the first movie in their heart language features the story of Jesus. They recently finished eight new JESUS Film translations representing 6.5 million people in South Asia."everyone wants to see it.!"
Full Article »
Horror and Hush-Up in Twin Falls, Idaho – Something wicked happened in rural Magic Valley. – 6/23/2016
A mentally disabled 5-year-old girl. The alleged perpetrators: Three boys, ages 7, 10 and 14, from Sudanese and Iraqi immigrant families (predominantly Muslim) who have been in the country for less than two years — all but confirming that they are refugees. They took pictures of the assault and "peed all over her clothes."
Full Article »
When a Twin Lost Her Sister to a Stroke, She Found Comfort in a Dazzling Answered Prayer – 6/23/2016
…We all stared, amazed at how bright and beautiful the rainbow was. Just then, a second rainbow appeared just above the first. Identical to the first. I couldn't believe it. Not just one rainbow—there were twins… Click here to read this inspiring story.
Full Article »
Unlimited permission to copy and post or reprint without altering text or profiteering is hereby granted subject to proper credits and inclusion of this web address: www.openheaven.com . However, if an item not written by Ron McGatlin is marked Copyright, you should contact the original publisher for permission to reproduce.