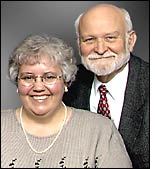 In This Issue
1. Stepping Into the Heavenly Realm Now
2. Simplify and Fortify
3. News Headlines
SUBSCRIBE OpenHeaven.com Digest
Stepping Into the Heavenly Realm Now
By Ron McGatlin
In this season, God is within and among His people. The reality of the kingdom of God is coming forth in the hearts and lives of those with ears to hear. Therefore, there is now an opportunity before us to step into life of the Spirit beyond where we have walked in the past.
The power of the Spirit to rule over all natural life is coming to light enabling God's people to become the true sons of God that we were designed to be from the beginning. The Spirit power to restore the world to the Garden of Eden, the kingdom of heaven life on earth, is now before us by the Spirit of God.
Natural things that are seen with natural eyes were not made by things that are seen but by that which is unseen. The heavenly realm of God from which all creation flows into existence is the Spirit realm that cannot be seen with the natural eye. "By faith we understand that the worlds were framed by the word of God, so that the things which are seen were not made of things which are visible." (Hebrews 11:3)
All tangible matter on earth consists of energy from Spirit God and is an arrangement of what we call atoms made up of energy in the form of protons, electrons, and neutrons that are alive with energy and movement. That which appears to be totally dormant, without visible signs of life, is actually alive with moving energy and design from God. "For by Him all things were created that are in heaven and that are on earth, visible and invisible, whether thrones or dominions or principalities or powers. All things were created through Him and for Him. 17 And He is before all things, and in Him all things consist." (Colossians 1:16-17)
The creation flow from Spirit God is living Spirit substance of love, energy, and design that becomes materialized as creation of both that which is seen with natural eyes and that which is only seen with spiritual eyes.
Natural living beings have breath in them. They partake of the elements of earth and have movement and some level of understanding and/or programed patterns of life and reproduction within themselves. Spirit beings do not have natural breath in them and normally are unseen by natural eyes. Both natural beings and spirit beings emanate from Spirit God as created beings.
Therefore since every created living being is made from Spirit, there is a spiritual unseen pattern or image from which it is made. That image is presented in every cell of the being in what we call its DNA.
The God-Man Connection
Only one species of created being, mankind, has the God-designed ability as a spirit being to live in a natural body and therefore function in both the natural realm and the Spirit realm. Thereby, only mankind has the designed ability to fully relate to the Spirit realm of God and heaven and at the same time to fully relate to the natural world as children of the God of all creation. As a designed child of God with the Spirit breath of God within, mankind has special creative authority and ability to affect all creation on earth.
All of God's original creation fit together and functioned perfectly until mankind in Adam chose to use his God given authority as a child of God with a free will to break from God's covenant of perfect order of unity and function of creation on earth. The act of breaking from the design of God is called sin and should have never been done by a human being endowed with the image and likeness of God.
Mankind in Adam was given dominion authority of choice and a free will with which to love and obey God. However, the bad choice of Man to sin broke the contract of sonship with God and has had a devastating effect on all of the created world.
A NEW CREATION
Once the design was broken it took a brand new creation of man that was not of the first Adam to restore the place of man on earth. Only through a new linage apart from Adam could man again become the full child of God and reestablish the broken design of God for planet earth.
A New Man was born of a virgin by the implanted seed of God by the Holy Spirit of God. Jesus, Yeshua, Savior, Messiah was born a pure holy seed of God, a new Man, the last Adam. In Christ Jesus the first born Son of God, the broken design is fully repaired.
All human beings born in the linage of Adam are broken under sin and do not possess the status of a true unbroken child of God. They must be BORN AGAIN and become a NEW CREATION in Christ Jesus to become a true son of God. In Christ Jesus, mankind can be fully restored to the original state of the image and likeness of God with the breath of God within just as Adam was before sin broke the design of God. "Therefore, if anyone is in Christ, he is a new creation; old things have passed away; behold, all things have become new." (2 Corinthians 5:17)
The born again new creation person no longer is tied to the DNA of the first Adam but has a new Spirit DNA of Christ Jesus. Literally the life of the new Man Christ Jesus flows into our natural being by Spirit God and transforms us into a new person, a new creation in which God lives and reigns in Christ Jesus by the Holy Spirit of God. "Jesus answered and said to him, 'Most assuredly, I say to you, unless one is born again, he cannot see the kingdom of God.'" (John 3:3)
There are two basic kinds of human beings in this world. Those that are of the first Adam and those that are of the Last Adam, Christ Jesus. Jesus has the unbroken DNA of Father God. If we abide in Christ Jesus and He lives in us by the Holy Spirit, we are no longer broken and are now true sons of Father God, joint heirs with Christ Jesus, born not of flesh and blood but born of the Spirit of God Almighty.
The kingdom of God abides within the Sons of God in whom Christ Jesus fully dwells by the Holy Spirit. When the people of earth have become the unbroken new creation people of God in Christ. Then the whole earth and all that is on it or in it will be fully redeemed and the old broken earth will be a NEW CREATION just as people in Christ Jesus are a NEW CREATION. The curse of sin and all that it has done to kill, steal, and destroy the kingdom of God on earth will be dissolved, and the whole earth will be returned to the unbroken perfect design of God as it was in the Garden of Eden before the fall of mankind in the first Adam.
THE KINGDOM WITHIN
The garden kingdom of God on earth as it is in heaven is now alive and well within the forerunner kingdom people of God. Though much of the old world may be perishing in the cleansing judgments of God, the pure holy reality of the kingdom of God from heaven keeps our hearts and minds in perfect righteousness, peace, and joy in the Holy Spirit.
Even in the midst of the storms of cleansing judgments removing the "tares," the glory of the manifest presence of God continues to grow by faith to overcome the darkness within and around the pure-hearted holy kingdom sons and daughters of God, and the kingdom of God continues to grow unseen by the people who love darkness. As the brightness of even two or three gathered kingdom people shines forth into the gross darkness, there are those who have a spark of life within that will see the light and arise from their darkness to come to the light.
"Therefore as the tares are gathered and burned in the fire, so it will be at the end of this age. The Son of Man will send out His angels, and they will gather out of His kingdom all things that offend, and those who practice lawlessness, and will cast them into the furnace of fire. There will be wailing and gnashing of teeth. THEN THE RIGHTEOUS WILL SHINE FORTH AS THE SUN IN THE KINGDOM OF THEIR FATHER. He who has ears to hear, let him hear!" (Matthew 13:40-43)    
As multitudes of individuals come to the light of the kingdom, they are cleansed of darkness and transferred into His kingdom of His marvelous light. The light within each one coming together grows until the whole earth is filled with the glorious light of the pure holy nature of the Living God on earth as it is in heaven.
"Arise, shine; for your light has come! And the glory of the Lord is risen upon you.
For behold, the darkness shall cover the earth, and deep darkness the people; but the Lord will arise over you, and His glory will be seen upon you. The Gentiles shall come to your light, and kings to the brightness of your rising." (Isaiah 60: 1-3)
This is not something to just be looked forward to some day in the future. This is the present reality of the kingdom of God on earth coming forth as our faith literally becomes His faith in us. What we could not believe in the past becomes totally real and accessible now in our lives by the faith of Christ Jesus within us by the Holy Spirit. It is all by the grace empowerment of God fully operative in our willing hearts.
We can now live in the fullness of the kingdom of God within by the Holy Spirit. As kings and priests in this world ruling and reigning with Christ Jesus within us by the Holy Spirit, we become part of restoring our portion of the world to the garden kingdom of God on earth as it is in heaven. Christ by the Holy Spirit will guide and empower us to bring forth the will of God in our world on Planet Earth.
"Do not fear, little flock, for it is your Father's good pleasure to give you the kingdom." (Luke 12:32)
Ron McGatlin
www.openheaven.com
basileia@earthlink.net
Simplify and Fortify
By Bill and Marsha Burns
We are prophetically making our way to another new plateau, a higher level in the realm of the Spirit.
The instructions from the Lord are to Simplify and Fortify. Our progression will require our undivided attention to stay on course. If we are too scattered, we will miss the importance of the season and make mistakes that could be hard to fix. We must have enough clarity to hear and obey His leading.
In a vision I saw a man making his way up a very steep mountain to reach the place where he would build his house. As he climbed he got tangled in vines and weeds that hindered his ascent. And, I heard the Lord say, "I'm taking you, My people, to a new dwelling place in the Spirit. It is higher than you have ever been. However, the enemy will try to prevent your progression. You must resist the temptations that entangle you and keep you from your destination."
"I want to bring you to a new and higher spiritual level where you can begin to see with clear perspective. From this place your life will be a process of unfolding step by step as I go before you to prepare the way for My purposes to be revealed and demonstrated in your life. Take an inventory of your mental and spiritual condition. You are still in the simplify-and-fortify process as change continues to position you for My highest and best. Make an honest assessment of what is important to you, and adjust your priorities so that you truly seek first My kingdom," says the Lord.
Life is in knowing what you live for:
It is up to each one of us to find the common denominator of life and to measure our selves against this standard.
Connection
It will be more important than ever in the perilous times we live in to stay connected to God and develop a vital relationship with Him instead of doing external religious exercise. We must stay present with God so that we are able to hear, see, and know by the Spirit. This will be a requirement for the Body of Christ this year.
John 17:11: "Now I am no longer in the world, but these are in the world, and I come to You. Holy Father, keep through Your name those whom You have given Me, that they may be one as We are."
Galatians 5:25: If we live in the Spirit, let us also walk in the Spirit.
Truth and Freedom
It is time to break away from everything that keeps us from optimal spiritual freedom.
John 4:24: "God is Spirit, and those who worship Him must worship in spirit and truth."
We must let go of the past before we can move forward with freedom.
"I am calling you to know true freedom, which will be the result of no guile, no control or manipulation, no unreasonable expectations, and no spiritual clutter. I want you to be unencumbered and free enough to trust Me completely. This is the beginning of a new era of righteousness and purity. Let freedom ring. Recognize and abandon every form of managing or exploiting other people for personal gain," says the Lord.
Psalms 32:2: "Blessed is the man to whom the LORD does not impute iniquity, and in whose spirit there is no deceit."
Psalms 34:13: "Keep your tongue from evil, and your lips from speaking deceit."
1 Peter 3:10: "For He who would love life and see good days, let him refrain his tongue from evil, and his lips from speaking deceit."
Obedience
Complete obedience is more important than ever, and it will be a huge factor this year. We will now incorporate changes that have occurred into a time of stability on this higher level. We must be true to what the Lord has instructed and led us to do without deviation. Perfect and divine purpose requires perfect obedience.
Romans 6:16: "Do you not know that to whom you present yourselves slaves to obey, you are that one's slaves whom you obey, whether of sin leading to death, or of obedience leading to righteousness?"
Purity
We must keep our spiritual space clean and clear, striving to maintain pure thoughts, motives and actions.
Pure and undefiled religion before God–
James 1:25-27: "But he who looks into the perfect law of liberty and continues in it, and is not a forgetful hearer but a doer of the work, this one will be blessed in what he does. 26 If anyone among you thinks he is religious, and does not bridle his tongue but deceives his own heart, this one's religion is useless. 27 Pure and undefiled religion before God and the Father is this: to visit orphans and widows in their trouble, and to keep oneself unspotted from the world."
Jesus is once again overturning the tables in the temple.
John 2:13-16: "Now the Passover of the Jews was at hand, and Jesus went up to Jerusalem. And He found in the temple those who sold oxen and sheep and doves, and the money changers doing business. When He had made a whip of cords, He drove them all out of the temple, with the sheep and the oxen, and poured out the changers' money and overturned the tables. And He said to those who sold doves, "Take these things away! Do not make My Father's house a house of merchandise!"
Words from the Lord to the Body of Christ–2016:
"You have been in the process of coming into divine order and of streamlining all that I have called you to do and to be. What you have done will stand and be a place of peace, but you must maintain that position because the enemy of your soul will fight you for it.
"You will be tested in ways that will reveal how and where you compromise. You will see how you justify yourself in wrong attitudes and patterns of behavior. Then, you will have the opportunity to choose the most righteous position and carry it out.
"Hear the cry of the Spirit calling you to come higher. It is time to put all laziness behind you and put forth the effort to walk and live at the highest level of your spiritual revelation and understanding. This will require transcending religious tradition.
"Desire to live and practice precise discernment. You will be able to experience and exhibit keen insight that will result in good judgment and righteous decisions. Do not deviate from this position through selfish ambition.
"This will be a season when you can overcome and forgive yourself for mistakes of the past and move into a phase of creativity and productivity beyond what you could have imagined. Rejection must become a thing of the past and not something that defines your life.
"You have justified taking advantage of other people as a means to survival, but I tell you truthfully that I am your avenue of not only surviving, but of thriving. I will cause you to thrive in extraordinary ways if you consciously and deliberately stop all exploitation.
"It is time to face the root of your pain and trust Me to bring healing to your body as well as your soul and spirit. I am the supreme healer; access by faith.
"You must cut the anchors-everything that prevented you from your potential, and kept you from moving forward in My purposes for you. Your steps of advancement and achievement must then become platforms of thanksgiving and worship, which is necessary to your success.
"Unselfishness will become a pathway to reward as you give of yourself, your time, and your resources. Your generosity is a sweet fragrance to Me.
"Embrace and revitalize the gifts that I have bestowed upon you spiritually and in the realm of creative expression. Do not minimize or neglect what I have counted as precious in My sight."
Bill and Marsha Burns
Faith Tabernacle
www.ft111.com
ft111@ft111.com
3. News Headlines
Heidi Baker's Prophetic Vision Over America: 'I Was Undone by What I Saw' – 2/25/2016
Iris Ministries' Heidi Baker told a conference audience she had a vision of famine sweeping across America. "I had a vision and it wasn't what I expected to see. … I saw bread lines, soup kitchens, and I saw people wearing beautiful clothing. Their clothing was not worn out. They come for food, not because they are beggars, but because they are hungry." Watch the video>
Full Article »
Refugees plan to flood Europe this spring – 2/25/2016
"When Spring hits, there will be literally millions, coming over as quickly as possible. Estimates are a range of around 3 million in Turkey, waiting to come in." About 80% of the refugees coming into Greece are young men that families are sending to avoid their being conscripted to fight by ISIS or Syrian Government or whatever group is trying to get them to fight for the…
Full Article »
Middle East: Muslims are seeing the truth of Islam, turning to the Gospel in great numbers – 2/25/2016
ISIS targeted more Muslim-populated areas in Syria on Sunday. According to reports, the attacks left at least 140 dead in Damascus and Homs. A double car bombing in Homs. Later in Damascus, four or more blasts killed and injured people. Both attacks were targeting minority groups. ISIS has claimed responsibility for the attacks. Sunday's attacks took place during ceasefire…
Full Article »
"We Die Every Day Because the World is Silent" – 2/25/2016
"…what they were doing to the women was more difficult than death." A 21-year-old Iraqi woman who was tortured and kept as a sex slave by ISIS group has escaped and opened up about the horrific acts the militants are inflicting on women and girls. ISIS fighters killed six of her brothers and her mother. Murad was taken as a sex slave along with 5,000 girls and women.
Full Article »
What "Extraordinary" Thing Happened When a Group of Evangelical Pastors Blessed a Group of Visiting Yeshiva Students? – 2/25/2016
Within a minute, every chair in the room was empty, as Orayta students and pastors alternated in an unbroken circle, singing the ancient song of Jewish strength and indomitability. One of the most spiritually uplifting experiences of my life took place in a restaurant, in a room full of non-Jews. View Clip
Full Article »
Nepal: Hindu priest doubted Jesus, until he showed up in a powerful way – 2/25/2016
Kosh Dahal doubted one God like Jesus could do very much. Dahal, a Hindu priest and the son of a Hindu priest, told him to stop coming by, but the pesky evangelist kept showing up and talking about the "loving living only God Jesus." "If He is the real God, come on and touch me and change me in 30 days." "Power like a current of electricity came into me and …
Full Article »
Ark Encounter a "Jaw-Dropping" Experience – 2/25/2016
Several dozen Amish carpenters used their traditional techniques and authentic Bible specs to help build this largest timber-frame structure in the world. Did you ever doubt that Noah could have built an ark so large all those animals could have fit on it? Visual proof is here as the Noah's ark re-creation is close to completion. A sneak peek at the giant ark.
Full Article »
News From British Isles, Ireland, Europe and Worldwide – 2/25/2016
India: Convictions – a milestone for anti-slavery – Watching and Praying over the UK's relationship with EU – British military training establishment – Serving migrants in our midst – Sweden: Under the weight of many thousands of refugees – Germany: Freedom to speak – Israel: Turning Jerusalem into a Christian Mecca – Australia: Nine Christian leaders arrested – More
Full Article »
Alleged ISIS sympathizer Khalil Abu-Rayyan of Dearborn Heights, Michigan – 2/25/2016
Khalil Abu-Rayyan is a 21-year-old Dearborn Heights, Michigan, man who gets excited by thoughts of beheading Americans, burning people alive and throwing homosexuals off of tall buildings. Beyond these fantasies, he'd made plans to shoot up a church full of Christians in Detroit, according to court records documenting his Internet conversations with an undercover FBI agent…
Full Article »
Chick-fil-A Flap Rocks Another American University – 2/25/2016
The hullabaloo started in January when students were asked to select a new dining option for the student union. The youngsters chose Chick-fil-A in a landslide. Who doesn't love a plump chicken breast? However, it turns out majority does not rule at the University of Nebraska—Kearney. A vocal minority pitched a fit and demanded that Chick-fil-A be banished from campus.
Full Article »
More Top News Headlines »
Unlimited permission to copy and post or reprint without altering text or profiteering is hereby granted subject to proper credits and inclusion of this web address: www.openheaven.com . However, if an item not written by Ron McGatlin is marked Copyright, you should contact the original publisher for permission to reproduce.
Thank you for forwarding OpenHeaven.com Digest to your email list.

www.openheaven.com
basileia@earthlink.net